Spring has officially sprung! Tomorrow's the last day of March, and it's time for another What I'm Into post! I'm linking up with Leigh Kramer for her What I'm Into series, and with Emily Freeman for her What I Learned series.
Books I Read:
To find out what books I read during the first half of the month, see my What I'm Reading Quick Lit post for March.
This is a middle-grade book about a 12-year-old genius who is faced with tragedy. The circumstances are heartbreaking, but the story is one of triumph, love, and courage. I don't always enjoy books in this genre, but this one shines. It reminded me of Wonder by R.J. Palacio. I'm going to insist my daughter read this one. 4/5 stars

First things first. Julia Pierpont is a gifted writer. Her prose sings and I am the type of reader who can forgive much in the way of plot and characters if the writing is excellent.
This is not, however, a feel-good book. If you like a nice, happy ending tied up with a bow, you'll want to skip this one. It's messy and disjointed and leaves you wondering what just happened. And I think it's exactly what the author was going for. It's a book about a failing marriage, so it's appropriate for the story to fall apart in pieces the way it does. A warning, though — the beginning chapters are full of some pretty graphic sexual content, so if that's a no-go for you, don't read it. 4/5 stars
This is a book about a young woman in Trinidad, spanning the 1940s through the 1960s. It's a story of motherhood, survival, and the hidden secrets that unravel families. The plot moves along quickly and I fell in love with the protagonist, whose name is Marcia Garcia.
The quote that nearly made me cry?
The old me, the real Marcia, had been all but destroyed when those boys disappeared. In her place stood a monster. . . she was angry, bitter, loveless. She was how I had protected the little bit of me that was left. . . she wanted to survive."
Simply a lovely book. 4/5 stars
Wow. This is a great read. Micha's gift for poetry oozes out of every sentence of her prose. Her writing is simply beautiful and profound. This is the story of how she learned to find the sacred in the ordinary, of how she looked to the monastic life to learn how to live simply and cultivate prayer in everyday moments. This book is right up  my alley and I adored it. As Micha struggles through these pages . . .
I know my tendency toward legalism. It's my most natural inclination. I want to do the best thing. I want Jesus to like me most."
. . . the reader struggles right alongside. I could easily relate to every word of this book, and I'm sure you will, too. Highly recommend. 5/5 stars
This is a well-written, comprehensive–but not boring–history of autism. I was fascinated by all the stories and the conclusions Silberman draws from his research. I listened to this book at the same time I was writing about how autism is not a tragedy, and I felt heard and validated with every chapter.
And honestly, it's time to face facts. The technology we adore and depend on wouldn't even exist if it weren't creativity and genius of people on the spectrum. Now that would be a tragedy. 4/5 stars
A good story with solid writing, this one reminded me of Susan Meissner's A Fall of Marigolds, and Jojo Moyes's The Girl You Left Behind. It's a modern day love story/historical fiction book which switches back and forth between the two stories, slowly weaving them together. A light, entertaining read. 4/5 stars
This is a good book, with lots of useful information, but there wasn't anything new to me. If you are a woman struggling to make time for yourself and the things you enjoy, you might get more out of it. And if you haven't read anything about the importance of daily creativity, this book might be an okay place to start. Better choices, though,  are Emily Freeman's books, A Million Little Ways and Simply Tuesday, and well as Greg McKeown's Essentialism. 3/5 stars
This book was recommended by a reader, and y'all — this is scary. As in Stephen King, lost-in-the-woods, Blair Witch-esque scary. What is it about the idea of getting lost in the woods that chills me to the bone? As if that weren't enough, there's some weird, graphic horror stuff going on in this novel that will scare the pants off of you. If you aren't into horror, don't read this! But if scary stuff is your thing, you'll love it. 4/5 stars
Blegh. I think this was supposed to be a fast-paced mystery-type thriller, a la The Da Vinci Code. It's set in the Vatican and is about the supposed conspiracy surrounding the Shroud of Turin. There were some interesting parts of the story, but most of it plodded along and I was relieved when it was finally over. There was nothing shocking or exciting, like I hoped.  It can't hold a candle to The Da Vinci Code. 2/5 stars
What I Listened To:
Y'all, I'm not much of a podcast listener. But bookworm that I am, I love listening to Anne talk to other bloggers about their favorite (and most hated) books. New episodes come out every Tuesday, and they're a fun, quick listen.
Lots of audiobooks
Okay, FIVE of the books I listed above were actually audiobooks. I'm shocked I made it through so many, but I did rack up plenty of hours in my car this month, so I guess that explains it!
In case you think I'm Wonder Woman when it comes to books, I'm truly not. But I do get lots of reading done. You can learn more about my methods in my ADHD Guide to Reading More Books, and my post about how to read 100 books in a year.
And if you haven't signed up for your free Audible trial
, do it now! You've got nothing to lose and I promise, it makes cleaning toilets so much more pleasant.
What I Watched:
Well, we drank the Kool-aid and started watching House of Cards
. As my sister said, it's "dark and delicious," like rich chocolate you know you should stop eating, but you absolutely can't. Kevin Spacey is spectacular. It's available on Netflix, and we've been binge-watching. We're just starting Season 2 and wow. These people are bad.
What I Cooked:
All the things.
Well, at least on Easter Day. My youngest got baptized that morning, and we had our entire family for a traditional lunch after church.
I made this Lemon Blueberry Cake which was absolutely divine.
But the biggest surprise of the day were these
Balsamic-Roasted Carrots and Parsnips.
 I don't like carrots much, and I literally could not stop eating these. They tasted like spicy carrot candy.
So delicious.
What I Learned:
This might seem like a no-brainer, but Facebook is so tempting. The one time this month when I scrolled through my timeline, I ended up writing this post out of frustration. So yeah. Ignorance is bliss. At least when it comes to Facebook.
2. Visual reminders of progress are huge motivators for me.
If you haven't friended me already on Goodreads, you should. I'm still pitifully low on friends over there. I use Goodreads to track my progress on books and just seeing the percentage increase each time I log in motivates me to keep reading. I push myself to read the next 50 pages or to the next percentage mark.
Now I just need to figure out how to apply this principle to other areas of my life. . . like diet and exercise. How do you use visual reminders to keep you motivated?
When it comes to exercise, I have a Jawbone Up for calculating daily steps, but I haven't been wearing it lately. So I guess I just answered my own question.
3. March Madness happens every year.
You'd think I'd remember. My husband is a sports fanatic and he LOVES March Madness. As for me, sports in general could cease to exist tomorrow, and I wouldn't even notice.
4. How to use Canva.
I'm a huge fan of PicMonkey for photo editing, and I use it to make almost all the graphics on this blog and for Pinterest. But I'm slowly learning how to use Canva as well. Canva has some nice features, but it's not quite as user-friendly as PicMonkey. Still, it's nice to have another tool in my belt when it comes to making graphics.
Other Stuff I'm Into:
This was a labor of love and took me way too long to finish, but I finally did it! If you haven't downloaded your FREE copy yet, you can do so in the box below! You'll get the guide in PDF format delivered right to your inbox, as well as access to my "members-only" resource page.
I've talked about this company before, but I'm smitten with them. Their products are high quality, all-natural, and they come delivered right to your door. So you don't have to go to the store and hunt for them.
They make the best candles money can buy, and I'm also in love with the Method fabric softener and the Mrs. Meyer's daily cleaning spray.
Right now, they're running a deal for a free Mrs. Meyer's hand soap along with a $10 credit with your first order. This is a great chance to try it out and see what you think.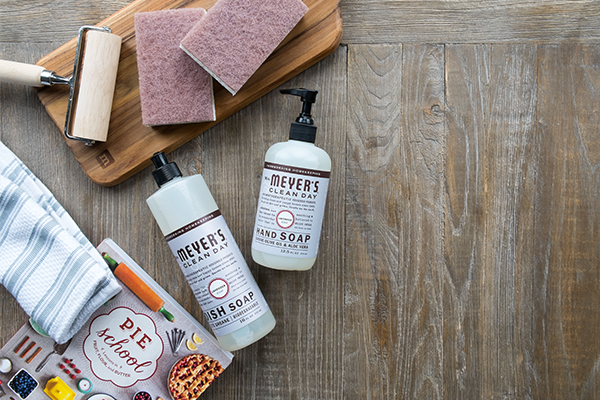 I think that's it for this month!
Whew! It's a lot!
What about you? What have you been into and up to this month? Any good book/movie/TV/product recommendations for me? I'd love to hear 'em as always!
And here's to a beautiful April!
Disclosure: Affiliate links included in this post.